junij 18th, 2017
V ponedeljek, 19. junija 2017 ob 20.00Bežigrajska knjižnica, Einspielerjeva 1, 1000 Ljubljana
* * *
Air Georg Friedrich Händel/Ward Swingle
And So it Goes Billy Joel/Billy Joel/Bob Chilcott
Is You Is or Is You Ain't My Baby? Billy Austin & Louis Jordan/id./ James Oxley
Blackbird/I Will Paul McCartney & John Lennon/id./ Ward Swingle
God Only Knows Brian Wilson & Mike Love/id./Tomas Bergquist
Crazy Little Thing Called Love Freddie Mercury/Freddie Mercury/ Anne Raugh & Deke Sharon
⓭ ⓭ ⓭
London by Night Carroll Coates/Carroll Coates/Gene Puerling
Miss Otis Regrets Cole Porter/Cole Porter/Martin Pickard
Psycho Killer Talking Heads/Talking Heads/Léon Driessen
Molly Malone (Cockles and Mussels) irska ljudska/Philip Lawson
Ol' 55 Tom Waits/Tom Waits/Marko Čibej
Welcome Home Radical Face/Radical Face/Jan Lisec
januar 17th, 2017
Z novim repertoarjem smo se uspešno spopadali pri Miri v Karigadorju – in neskončno uživali!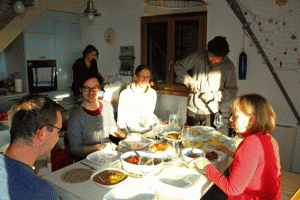 junij 5th, 2015
V sredo, 17. junija 2015 ob 20.00
Atrij ZRC, Novi trg 2, 1000 Ljubljana
* * *
Allá va un encobijao * Antonio Lauro/Alberto Arvelo Torrealba
Smoke Gets in Your Eyes * Jerome Kern/Otto Harbach/David Nield
When I Fall in Love *  Victor Young/Edward Heyman/Kirby Shaw
Duerme negrito * Atahualpa Yupanqui/Atahualpa Yupanqui/ Emile Solé
Amara terra mia * Domenico Modugno/Enrica Bonnacorti/Matjaž Jarc
God Only Knows * Brian Wilson & Mike Love/id./Tomas Bergquist
I Sing, You Sing    * Anders Edenroth/A. Edenroth/A. Edenroth
⓫ ⓫ ⓫
Duet violine in kitare, Katarina Šetinc in Janez Špendov
⓫ ⓫ ⓫
Love of My Life * Freddy Mercury/F. Mercury/Jonathan Rathbone
Nad mestom se dani * Jože Privšek/Dušan Velkavrh/Tomaž Habe & Jaka Jerina
I'll Follow the Sun * John Lennon & Paul McCartney/id./Grayston Ives
Jedno popodne * Predrag Ivanović/Predrag Ivanović/Marko Tiran
Welcome Home * Radical Face/Radical Face/Jan Lisec
You've Got a Friend  * Carole King/Carole King/R. C. Schäfer
Ol' 55 * Tom Waits/Tom Waits/Marko Čibej
Foto: Griša Planinc.
oktober 8th, 2014
… intenzivno pripravljamo nov program, novembra si obrusimo glasilke na intenzivnih vajah, decembra pa spet skočimo na oder!
maj 21st, 2014
V petek, 13. junija 2014 ob 21.00 v Atriju ZRC, Novi trg 2, Ljubljana.
PROGRAM
AGUA DE BEBER. Tekst Vinicius de Moreas, glasba Antonio Carlos Jobim, arr. Jürgen Kreffter
WHEN I FALL IN LOVE. Tekst Edward Heyman, glasba Vicot Young, arr. Kirby Shaw.
LOVE OF MY LIFE. Fredy Mercury, arr. Jonathan Rathbone
WHAT A WONDERFUL WORLD. Weiss / Douglas, arr. Karl-Frederik Jehrlander
I SING YOU SING. Anders Edenroth
MOON RIVER. Tekst Johnny Mercer, glasba Henry Mancini, arr. Teena Chinn
ALLA VA UN ENCOBIJAO. Alberto Arvelo Torrealba, Antonio Lauro
SATIN DOLL. Tekst Johnny Mercer, glasba Duke Ellington, Billy Strayhorn, arr. Berty Rice
YOU'VE GOT A FRIEND. Carole King, arr. R. C. Schäfer
CAN'T BUY ME LOVE. Johnn Lennon, Paul McCartney, arr. Keith Abbs
GOSTI
Bežiglas
Male malice
Foto: P. Janjič
december 1st, 2012
Za vse, ki ste komaj čakali na naš celovečerni koncert 🙂 Povezoval ga bo naš nekdanji pevec in šaljivec Marjan Jarnjak, ki nam tu in tam še vedno posodi svoj pevski glas, dodatno pa ga bo popestril duo violine in kitare Katarina Šetinc in Janez Špendov. Vabljeni!